Ice Cream Politics: Party Flavors
By:
Food Network Magazine
Red states and blue states don't just disagree about politics — they take sides on ice cream flavors, too. In a Harris Interactive poll, Republicans preferred chocolate over other flavors (followed by vanilla and cookie dough), while Democrats chose vanilla as their favorite (chocolate came in second, and butter pecan third). Independent voters sided with the Republicans, but a majority of Americans agreed on one contentious issue: 52 percent said that hot fudge is their favorite topping.
( Photograph by Sam Kaplan)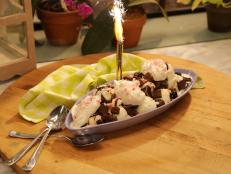 These three knock-out sundaes from your favorite hosts hit all the right notes — salty, sweet, crunchy, smooth. Plus, there's plenty of whipped cream — always a good thing.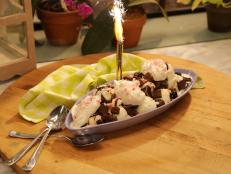 Find out how the co-hosts of The Kitchen dress up everyday ice cream flavors to create over-the-top sundaes.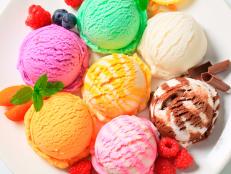 Why do we seek out oddities, when the flavors we already have — including chocolate chip and mint chip, cookies 'n' cream, and fudge ripple — are so delicious? Here's the scoop.