Three Ways to Use: Potato Chips
By:
Food Network Magazine
Potato chips are a must-have at summer barbecues. Follow the lead of Claudia Sidoti, Jay Brooks and Bob Hoebee as they give this supporting side the star treatment it deserves.
Jay says: "Chips work great as a crust. They're already salty and crispy — they just need to be crumbled."
Claudia says: "A Spanish tortilla, or potato omelet, is a favorite of mine. If you use chips, there's no peeling and slicing."
Bob says: "I combined chocolate, caramel and chips to create the ultimate snack. It has just the right salty crunch."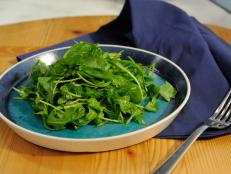 Start with GZ's go-to vinaigrette, then dress it up with additional ingredients for bold flavors and textures.