Giada's Cheesy Pasta with Peas and Sausage — Most Popular Pin of the Week
It's no wonder that Giada's pasta is this week's Most Popular Pin of the Week. It's a hearty meal that's on the table in only 15 minutes.
When time is tight on weeknights, every minute in the kitchen counts, and the only item on the dinner menu is, of course, a quick-cooking dinner. That's where pasta comes in — especially this week's Most Popular Pin of the Week. Ready to eat in only 15 minutes, Giada De Laurentiis' sausage-studded pasta may look fancy, but there's really nothing to it: Just brown the meat, warm the (frozen!) peas, then toss in cooked noodles and cheese. The warmth from the hot pasta will be enough to melt the ricotta and Pecorino Romano and create a silky sauce in a hurry.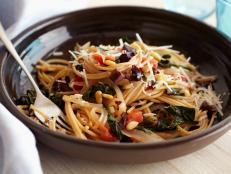 Good old pasta dishes can easily be turned into a vegetarian dish. Problem is, pile in tons of cheese and large portions of pasta and watch the calories and heart-clogging saturated fat go through the roof (yes, even vegetarian recipes can be unhealthy!). There are ways to lighten up your lasagna and macaroni and cheese but here are a variety of vegetarian pasta dishes that are delicious and figure-friendly.