Tour Michael Symon's New York City Kitchen
By:
Food Network Magazine
Michael's Satellite Bowl folds into a cylinder for easy storage. $40/small, $50/large
When he's entertaining, Michael serves cheese and salami on his Spanish olive tray. $112 to $158, Europe2You
This Talavera pig, hand painted in Mexico, is similar to Michael's Mexican piggy bank. $78
Liz's Marilyn Monroe kitchen cutting board doubles as a trivet. $20, Joseph Joseph
Michael's twine holder is no longer available, but you can show off paper towels in a similarly fun red rooster paper towel holder. $22
(Photographs by Jim Franco and Ben Goldstein/Studio D.)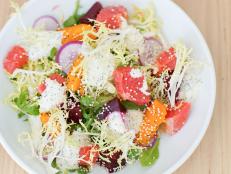 This vibrant winter salad is just as good to eat as it is to look at.