The Better Side of Broccoli
If there's one complaint I hear over and over from Foodlets readers, it's about getting kids to eat more vegetables. And to that I have one piece of tried-and-true advice: Roast them. I've roasted carrots, Brussels sprouts, cauliflower, asparagus and now broccoli. It's so easy and so delicious; I can't believe I haven't tried it before. Here's what you do: Slather a few cups of broccoli florets with olive oil, sprinkle with sea salt and roast in a hot oven (around 400 degrees F).
When the edges are crispy, but the centers still soft, you know it's done. Encourage anyone who's had a bad broccoli experience in the past to try just one bite. They may not immediately become a fan, but over time, this is the recipe that'll win 'em over.
More Roasted Broccoli Recipes from Food Network: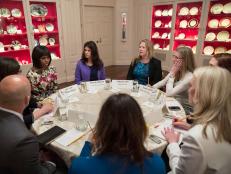 First Lady Michelle Obama talked with us about the challenges of getting a healthy meal on the table each night, how to keep recipes simple and full of veggies.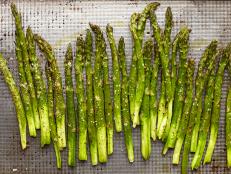 It doesn't take much for asparagus to shine. Enjoy this in-season veggie without any distractions with spring-forward recipes that call for fewer than 10 ingredients.