Egg Sandwiches with a Kid-Friendly Kick
Our kids love eggs. We make hard-boiled eggs with bunny faces for breakfast and snacks all the time. But now we've moved on to a lunchtime classic: egg salad sandwiches. The kiddie update? Pickles. These sandwiches are simple: just eggs, real mayonnaise, a squirt of mustard and diced dill pickles. High-protein, easy to prepare and even easier on your wallet, these have become a lunchtime staple for the preschool set at our place. Try them with your kids this week.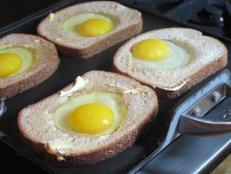 Also called "eggs-in-a-hole", "birds nest," "eggs-in-a-blanket" or "frog-in-a-hole", this fun breakfast fave was served up to my kids on their first day of school. With less than 5 ingredients, it's an easy and stress-free dish to cook up on a school day.