How to Bake Muffins With a Surprise Inside
By:
Food Network Magazine
If you forgot the card this Mother's Day, you can bake your message into a muffin instead: Cut a thin strip of parchment paper, write a note with a nontoxic marker, then fold the note in half lengthwise (so the ink faces the inside). Fold it one more time and push it into the muffin batter, leaving the ends poking out; bake as usual.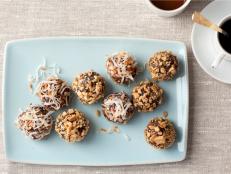 Make delightful little truffle cookies for everyone on your holiday list this year: they're full of healthy ingredients and you won't need your oven to make them.