Marc Murphy's Millionaire Shortbread — 12 Days of Cookies
Celebrate the holiday season with Marc Murphy's Millionaire Shortbread Cookies.
It's time for 12 Days of Cookies, Food Network's annual virtual cookie swap. Each day, visit us here on FN Dish for a peek at new holiday cookies, party-planning tips and top techniques from your favorite Food Network chefs for rolling, spooning, slicing, baking and decorating delicious sweet treats to give — or keep.
Chopped judge Marc Murphy takes shortbread cookies to a whole new level by layering the traditional recipe with dark chocolate and homemade cookie butter. Garnish the glistening squares with flaky salt before serving for an elegant touch.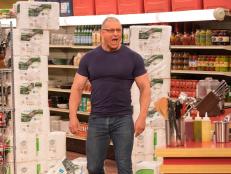 Get all the details on the upcoming premieres this weekend on Food Network.