Is Alton's Mango-Cutting Technique Better Than Yours?
In a YouTube video this week, Alton takes on the fruit that is seemingly impossible to cut — the mango. In a comedic parody (including a massive amount of faux blood), Alton walks food fans through two bad ways to cut this fruit, then he describes the best tactic: Remove all the peel from the mango except for two circles in the center of each cheek. Holding this skin for support, you can then slice the mango easily on each side of the seed. The skin will provide a tough grip so you don't drop the mango and cut yourself.
So what are you waiting for? Get a stash of mangoes and experiment.
Make Alton's rich and creamy mac and cheese right on the stove for a quick, no-fuss weeknight meal.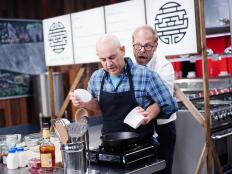 Watch Food Network's Cutthroat Kitchen: Alton's After-Show hosted by Alton Brown.