Quinoa and Vegetable Stuffed Peppers — Meatless Monday
Trying to pick a protein source that isn't tofu for vegetarian meals can be frustrating, which is where quinoa comes in. It has a slightly nutty taste and can easily be topped with a number of seasonings, which adds to its versatility. Packed with flavor, quinoa is the ideal pick when it comes to a weeknight dinner.
In this Quinoa and Vegetable Stuffed Peppers recipe from Rachael Ray, the quinoa is cooked with garlic, chiles, mint leaves and basil to give it a burst of flavor and is topped with feta cheese for a tangy twist. Vegetables like eggplant and zucchini give it an additional nutritional boost, and it is then stuffed in olive oil-roasted peppers for a colorful, tender dish.
Meatless Monday, an international movement, encourages people everywhere to cut meat one day a week for personal and planetary health. Browse more Meatless Monday recipes.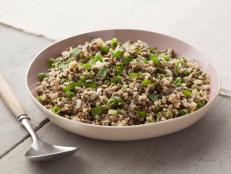 Try Food Network's Magazine's Quinoa and Bean Pilaf for a protein-packed vegetarian meal on Meatless Monday.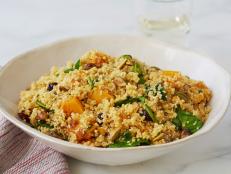 Celebrate the flavors of fall with this recipe for hearty quinoa studded with tender squash and chewy dried cranberries.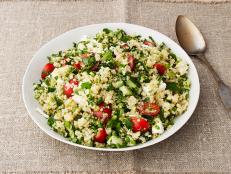 Ina's Mediterranean-inspired dish comes together in just 35 minutes. Combine hearty quinoa with a lemon-infused olive oil mixture plus fresh parsley, mint and scallions.