Kale and Pistachio Pesto Spaghetti — Meatless Monday
Not just for salads, kale takes on a starring role in this easy, healthy pesto pasta.
While basil often claims the starring role in traditional pesto recipes, this vibrant green sauce can surely be made with just about any other green, which means that even when fragrant basil is out of season, like it is now, post-steamy days of summer, you can enjoy this quick-fix favorite. Food Network Kitchen's recipe for Kale and Pistachio Pesto Spaghetti not only calls for kale as the leafy green, but it also puts pistachio nuts to work in place of the classic pine nuts.
"Kale adds a rich earthy note and brilliant green color to this hearty pesto," the chefs in Food Network Kitchen said, and because this top-rated recipe comes together in only 35 minutes, it's a go-to pick for those nights when you're strapped for time. To boost the healthy factor here, Food Network Kitchen chefs opt for whole-wheat spaghetti, but they don't compromise on flavor: Bold garlic and nutty Parmesan cheese round out the flavor of the sauce. According to the chefs, "This makes about 1 to 1 1/2 cups pesto, which would also be good on fish, chicken, pork or steak," so keep this recipe in your back pocket even when you're cooking for Meatless Monday.
Meatless Monday, an international movement, encourages people everywhere to cut meat one day a week for personal and planetary health. Browse more Meatless Monday recipes.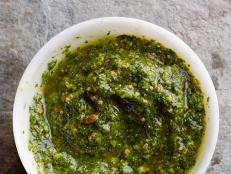 A fresh, no-cook sauce that takes just moments to prepare, Food Network Magazine's Basil Pesto is a must-have summer sauce.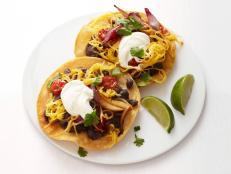 Get Food Network Magazine's easy recipe for Spaghetti Squash Tostadas, an updated version of a Mexican classic that's ideal for Meatless Monday dinner.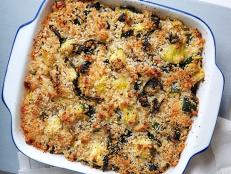 Prep and freeze this casserole ahead of time, then bake it when you're looking for an easy weeknight meal.