A Walk Down Christmas Memory Lane: The Kitchen Cast Shares Holiday Remembrances
Hear from the cast of The Kitchen as they look back on their favorite holiday memories.
While New Year's is meant for looking ahead at what's to come, the preceding holiday season is all about reflection and remembrance. FN Dish recently caught up with the cast of The Kitchen on set, and from childhood reminiscences to recent family dinners, the co-hosts shared some of their favorite Christmas memories. Read on below to hear from Geoffrey Zakarian, Jeff Mauro, Katie Lee, Marcela Valladolid and Sunny Anderson as they recollect holiday seasons past and reflect on all that Christmas means to them.
Jeff Mauro: "I remember one year, my aunts — my dad's two sisters — spoiled us rotten. They were single, didn't have any kids, so they spoiled me and my three siblings immensely with gifts. … And one year I cried under the table for a good hour because I got too many Christmas gifts and I felt like I didn't deserve them. I believe I was 6 years old."
Geoffrey Zakarian: "Christmas is definitely the best for me, one of my favorite holidays — Thanksgiving and Christmas. My memories sort of all begin with the kids … being a new father. So, you know, just trying to contain their glee. Hearing them, the energy they have, it's just priceless."
Katie Lee: "When I was about 12, I decided to play a joke on my mom. She was gone for the afternoon and my friend was staying with me, and it was June and we decided to make it Christmas. So, we thought we were being really funny, and my poor mom came home to a house that was completely decorated for Christmas, carols and a completely messy kitchen from us making cookies and the air conditioner on 60. We couldn't understand why she was upset."
Marcela Valladolid: "Just the memory in general of going to my grandparents' house in Tijuana. I grew up in Tijuana and we'd get together at my grandparents' house every single year. And my favorite memory — it would make us all cry —every single time is at the beginning of the meal my grandfather would stand up and say grace, and it was always a really emotional moment. And then he passed away and then my uncle did it, and then he passed away and then my brother did it, so it's just one of those things that's been handed down to the men in the family, but it's just a great memory."
Sunny Anderson: "[My favorite Christmas memory] would have to be the one that happened last time I think most of my family was together. And my granddad, who isn't with us now, Granddad Anderson — and I still have pictures of it — was playing foosball with the kids … and my uncle had a treadmill and [my granddad] got on the treadmill. Walked the treadmill and he was just so full of life, and just still so spry and young-acting. So that would have to be my favorite, the last time that we were together as a family."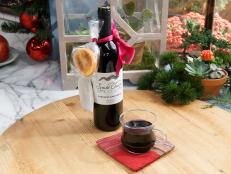 The hosts share ideas for sprucing up your holiday hostess gifts.