Robin's Healthy Take: Salmon 3 Ways
Here are three of Robin Miller's best recipes for heart-healthy salmon.
There's no chance you missed this news: Salmon is a loaded with omega-3 fatty acids and DHA, both important for heart health, improved mood and memory, eye health and a reduced cancer risk. But did you know that one 4-ounce serving of the pink fish also has over 100 percent of your daily value for tryptophan and vitamin D? Tryptophan is the essential amino acid linked to relaxation, restfulness and sleep (think of Thanksgiving turkey). Vitamin D aids in calcium absorption which helps form and maintain strong bones while preventing hypertension (high blood pressure), cancer and several autoimmune diseases. Plus, recent studies show that small protein molecules in salmon (called bioactive peptides) promote healthy joint cartilage, insulin effectiveness and even control digestive tract inflammation. All that, and it's tasty too! Here are three fabulous ways to enjoy salmon this week.
Sesame Crusted Salmon With Mandarin Oranges and Orange-Hoisin Sauce
Adding sesame seeds to this salmon serves two purposes – texture and flavor. As the salmon cooks, the seeds toast and become nutty and crunchy. Feel free to top the salmon with any fresh fruit – pineapple, mango and papaya will work especially well.
4 salmon fillets (about 5 ounces each)
1 tablespoon hoisin sauce
1 tablespoon orange juice
1/2 teaspoon Chinese mustard
11-ounce can mandarin oranges in juice, drained
Preheat oven to 375 degrees F. Coat a baking sheet with cooking spray.
Place salmon skin-side down on prepared pan and season the top with salt and freshly ground black pepper. Whisk together hoisin sauce, orange juice, Chinese mustard, and sesame oil. Brush mixture over top and sides of salmon. Bake 8 minutes. Sprinkle sesame seeds on top of salmon. Bake 4-7 more minutes, until salmon is fork-tender. Arrange mandarin oranges over salmon and serve. Serves 4
Salmon Egg Rolls With Cilantro-Wasabi Mayo
Grilling salmon is a terrific way to create an extra layer of flavor because of the charred crust. That said, you may also cook the salmon as directed above (bake it). Egg roll wrappers are sold either in the produce section (refrigerated) or in the freezer section of the grocery store.
2 salmon fillets (about 5 ounces each)
1/4 cup chopped scallions
1 tablespoon minced fresh ginger
2 cups shredded cole slaw mix (shredded cabbage and carrots)
1 tablespoon reduced-sodium soy sauce
2 tablespoons chopped fresh cilantro
Preheat oven to 400 degrees F. Coat a baking sheet with cooking spray.
Coat a stovetop griddle or grill pan with cooking spray and preheat to medium-high. Season both sides of salmon with salt and freshly ground black pepper. Place salmon on hot pan and grill 2-3 minutes per side, until fork-tender. When cool enough to handle, break salmon into pieces with two forks. Set aside.
Meanwhile, heat oil in a large skillet over medium-high heat. Add scallions and ginger and cook 2 minutes. Add cold slaw mix and soy sauce and cook 1-2 minutes, until cabbage wilts. Remove from heat.
Arrange wrappers on a flat surface. Place cabbage mixture diagonally on the center of each wrapper. Arrange salmon on top of cabbage. Fold bottom corner over filling and roll up halfway (snugly). Fold in sides and then roll up completely. Place egg rolls on prepared baking sheet and spray with cooking spray. Bake 12-14 minutes, until golden brown.
Meanwhile, whisk together mayonnaise, cilantro and wasabi paste. Serve egg rolls with mayonnaise dip on the side. Serves 4
Roasted Lemon Pepper Salmon With Cob Corn and Parsley Butter
The key to flavor in this dish is the roasting of the corn and zucchini alongside the salmon. Roasting chars the vegetables while bringing out their sweetness. Lemon pepper seasoning is salt-free and is sold with the other spices in the grocery store.
4 salmon fillets (about 5 ounces each)
2 ears cob corn, shucked and kernels cut from cob (about 1 1/2 cups)
1 medium zucchini, chopped
4 tablespoons unsalted butter
1 1/2 tablespoons chopped fresh parsley
Preheat oven to 400 degrees F. Coat a baking sheet with cooking spray.
Place salmon on prepared pan and season the top with salt and lemon pepper. Arrange corn and zucchini alongside. Roast 12-15 minutes, until salmon is fork-tender.
Meanwhile, combine butter and parsley in a small saucepan and set pan over medium-low heat. Cook 2-3 minutes, until butter melts. Serve salmon, corn and zucchini with butter mixture drizzled over top. Serves 4
TELL US: How do you cook salmon?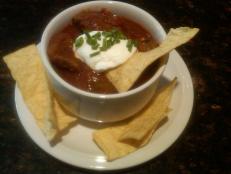 When it's cold outside, nothing warms you up like a bowl of hot chili. Try Robin Miller's recipes for beef chili, turkey chili or vegetarian chili.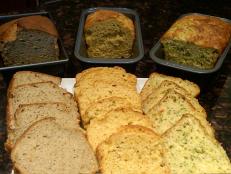 One slice of regular banana bread has 330 calories and 11 grams of fat. Truth is, you don't need that much fat and sugar for an amazing treat. Check out 3 of my favorite healthier quick breads.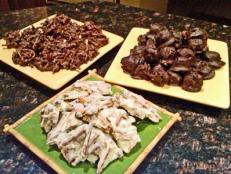 There's no better way to show someone special how you feel than by making candies from scratch. I'm not talking about labor-intensive sweets that require a candy thermometer, patience and little room for error. I mean chocolate treats that are super-simple to make and can be customized for anyone and everyone. Check out my three favorites: truffles, chocolate bark and white chocolate haystacks.