Summer Fest: Cool Cucumber Soup
It's too hot to cook so make Ellie Krieger's low-fat, low-calorie, no-cook cold cucumber soup as an appetizer or light meal.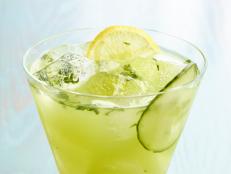 Week three of our season-long garden party Summer Fest 2011 welcomes food and garden bloggers to feature garden-to-table recipes and tips. We'll help you to enjoy all that this season has to offer. So far, we've delved into eggplants and peaches. This week we're getting creative with: cucumbers. Water-rich and crunchy cukes are the perfect light summer veggie. We've seen them in salads all year long but with summer's best in season right now, you can use them in pretty much every part of your meal.