Market Watch: Fingerling Potatoes
Fingerling potatoes are in season; find out what to cook with them.
Slice and roast them or steam and smash them. Sprinkle with salt and some freshly chopped herbs and the delightfully earthy flavor only gets better. Is your mouth watering yet for some fingering potatoes?
Resembling chubby fingers, this variety of spud can be found at farmers' markets now. Look for skins with golden, rose or even purple and blue hues. The color of the creamy, yet sturdy flesh will also vary from pale yellow, white and purplish-blue.
Some of the most well-known varieties are Russian Banana, French Fingerling and Purple Peruvian but there are even more out there – ask your local farmer what they're growing.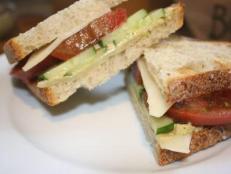 A pound of meat piled high on two slices of bread can be a bit much on a hot summer day (or any day really). Go light and cook less by prepping my veggie sandwich, which is filled with healthy nutrients and comes together in minutes.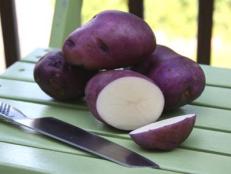 Potatoes already? Spuds may seem like a fall goodie, but young varieties have started showing up at markets now. This early maturing variety (named "Caribe") is a real summer treat -- their bright purple skin always makes me smile.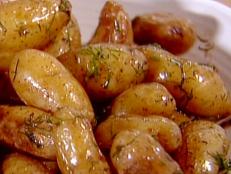 Potatoes are the most popular veggie around. Most folks like them fried or mashed, but they're more versatile than that. Learn their benefits and lighter ways to love them.