How to Build a Healthier Potato Salad
Traditional versions of potato salad are drowning in gobs of full-fat mayonnaise. Let the flavor of this tuber shine by making a lightened-up potato salad using these simple steps.
One of the most-popular sides at a summer cookout is the classic spud-filled salad. Traditional versions, however, are drowning in gobs of full-fat mayonnaise, making it rather difficult to taste the actual veggies. Let the flavor of this tuber shine by making a lightened-up potato salad using these simple steps.
Start with red-skinned, purple or traditional white (aka Russet or Yukon gold) potatoes, or use a combo of all three. Red-skinned (or New Potatoes) are sturdy and you can cook them with the skin on (hello, more fiber!). Purple potatoes add a gorgeous hue to your salad and the color is a real conversation starter. Many folks are surprised that purple potatoes taste, well, like traditional white potatoes.
The high-starch Russet potatoes may crumble a bit when mixing, but they're highly absorbent, meaning they'll take in the flavor of your dressing nicely. Yukon gold potatoes have a slightly buttery taste, and they cook up very tender and will hold their shape after being cooked. The skin, however, can get tough, so peel them before using.
You can also combine potatoes with other starches like cauliflower, sweet potatoes and parsnips to make the base of your salad.
Colorful veggies add to the visual appeal and nutrition of a potato salad. Green beans and peas are some more common options, but you can add whatever you like (carrots, radishes, celery, broccoli and bell peppers). Fresh herbs also add color, flavor and even a handful of good-for-you nutrients.
You can also opt to mix potatoes with a grain like quinoa, which will up the protein and contribute to your daily fill of whole grains.
If you toss your salad in a traditional mayo-based dressing, there are a few things you can do to lighten things up without losing flavor. Replace half the mayo with nonfat plain Greek yogurt, or use reduced-fat or light versions of mayo, buttermilk and sour cream.
To shake things up, try a pesto dressing or vinaigrette. Pesto still has a boatload of calories, with 1/4 cup containing about 300 calories and 28 grams of fat (42 percent of your recommended daily amount of fat). To slash calories but keep flavor, use nonfat plain Greek yogurt for half the pesto. A vinaigrette dressing is probably the lightest on calories, but watch your portions: Aim for about 2 tablespoons of vinaigrette per serving.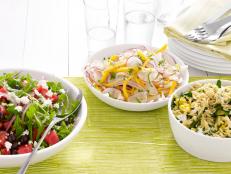 Toss together one of these fresh and easy combos from Food Network Magazine for your next party.