Homemade Holiday Gift: Oatmeal-Raisin Cookie Jar
Instead of passing out cookies this year, try gifting a handmade cookie-in-a-jar kit.
Instead of passing out cookies this year, try gifting a DIY cookie kit. Pre-measured dry ingredients, plus a few extras make baking a batch of oatmeal cookies a cinch.
Oatmeal-Raisin Cookie Jar
Equipment: 1 sheet parchment paper, 1-quart glass jar or other container with lid, recipe card with baking instructions
Add ingredients to the jar in order, starting with flour and ending with raisins. To get them into the jar more easily, first measure on to a piece of parchment paper. Use the parchment to gently transfer each layer into the jar. Cover.
Write these directions on the recipe card:
1 jar Oatmeal-Raisin Cookie Mix
1 teaspoon vanilla extract
Preheat oven to 350-degrees F. Combine all ingredients to a stand mixer fitted with a paddle attachment and mix until just combined.
Drop small mounds of dough onto sheet pans lined with parchment paper. Bake for 10 to 12 minutes, until lightly browned. Transfer to a baking rack and cool completely. Makes 30 small or 15 large cookies.
Nutrition info for one small cookie:
Calories: 93
; Total Fat: 4 grams
; Saturated Fat: 2 grams
; Total Carbohydrate: 15 grams; 
Sugars: 10 grams
Protein: 1 gram
; Sodium: 31 milligrams; 
Cholesterol: 14 milligrams; 
Fiber: 1 gram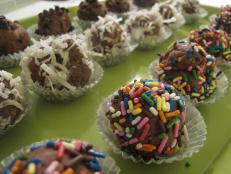 These deliciously decadent chocolate-flavored balls have been a family favorite for decades. Whip them up this holiday season for the ones you love.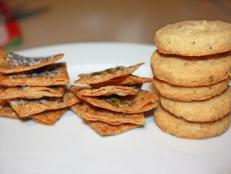 If you've got the cookie recipes covered, try a savory twist to your holiday gifts with homespun crackers. We've got two basic recipes you can use to create all kinds of festive flavors.