Spotlight Recipe: Mulled Apple Cider
Warm up with a mug of mulled cider.
Cozy up next to the fire with a warming mug of Ellie Krieger's Mulled Apple Cider. The cinnamon sticks lend this drink a holiday scent, and the fresh orange slices add vitamin C and potassium.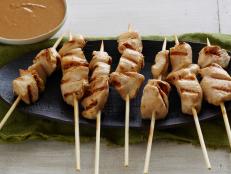 With a coconut milk marinade and a sweet-and-spicy dipping sauce, this chicken Sate is perfect for any party.