Think bringing lunch is boring? We disagree. Sure, it may take a little extra effort each morning, but in the end, you can save money. If you want your lunch box to be the talk of the office, here are some good ideas.
If you think bringing lunch is boring, think again. Sure, it may take a little extra effort each morning (or the night before), but in the end, you can save money. If you want your lunch box to be the talk of the office, try these easy ideas.
Sandwiches are an easy lunch box idea, but that doesn't mean they have to be the same every day. To start, use 100% whole wheat, pumpernickel or rye bread or whole wheat tortilla. Fill with natural peanut butter and jelly (my favorite).
If PB&J's not your style, try mozzarella cheese and tomato with a touch of balsamic vinegar or grilled chicken breast and a slice of low-fat cheese topped with dollop of guacamole (but go light on that). Spread hummus on in a whole wheat pita and fill it with cucumbers, peppers or your other favorite veggies. <a
Or cook these dishes for dinner and use leftovers in a sandwich:
Salads are also a great idea, but don't forget to add protein. Try topping your greens with chicken, hard boiled eggs, shrimp, beans or cooked tofu. Add crunchiness by sprinkling sunflower seeds, crushed tortilla chips or chopped walnuts. Experiment with dried cranberries or raisins for some added flavors. Remember to mix in dressing right before eating so you don't have a soggy mess come noon.
Here are some other yummy salads that are easy to prepare:
This is a great time to eat a fruit and satisfy that sweet tooth. Oranges and persimmons are now in season, but you can always throw in a simple apple, pear, banana or some grapes.
Water, diet soda or seltzer are good non-calorie choices. Pep up your drink by adding sliced cucumbers, lemons or limes.
Mid-afternoon slumps strike the best of us. Sugary and fat-filled snacks only make you sleepier. Make a basic trail mix with a handful of your favorite nuts, some dried fruit and some pretzels. Mix it up by adding a tablespoon of dark chocolate M&Ms. Other ideas include hummus and carrots, salsa and pretzels or homemade rice treats. Fruits, veggies or nonfat yogurt also make a quick-and-easy afternoon snack.
Go green by bringing a reusable lunch box, plastic containers and beverage container. Keep food cold by adding an ice pack. Chicken, meat, seafood and dairy products need to stay chilled, so get them in the refrigerator a.s.a.p. Don't forget to wrap items in bags if you're worried they might spill.
And one last tip: add your name to everything. With treats like these, your coworkers might start claiming "finders-keepers."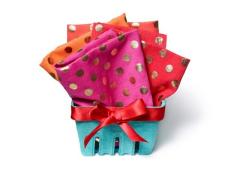 Step up your usual wrapping job this year by presenting gifts in these farmer's berry baskets.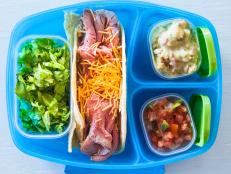 When peanut butter and turkey have you and your kids yawning, here are 5 fresh ideas to add to the mix.