Spotlight Recipe: Banana Chocolate Chip Muffins
These healthy banana chocolate chip muffins work for breakfast, brunch or dessert. They're easy to make and a healthy way to get your chocolate fix.
Everyone who tries these chocolate chip muffins asks for the recipe. I've made them for everything from brunch to dessert. They're easy to make and a healthy way to get your chocolate fix.
Banana Chocolate Chip Muffins
Makes 16 large or 48 mini muffins
1/4 teaspoon freshly grated nutmeg
1 teaspoon pure vanilla extract
1 cup unsweetened soymilk
1 cup unbleached organic all-purpose flour
1 cup whole wheat pastry flour
1 cup dark chocolate chips
Pre-heat oven to 350°F. Line a muffin pan with paper liners or spray with non-stick cooking spray. Set aside.
In a medium saucepan, combine maple syrup, honey, banana, cinnamon, nutmeg, canola oil, apple butter, vanilla and soymilk. Heat over low heat for 2 to 3 minutes; whisk to combine. Set mixture aside to cool for 5 to 10 minutes.
In a large bowl, sift together flours, baking soda and salt. Add banana mixture to dry ingredients and mix until just combined. Make sure batter has cooled, then stir in half of the chocolate chips. Scoop batter into muffin tins, sprinkle additional chocolate chips on top of each muffin.
Bake for 20 to 25 minutes or until a toothpick poked into the center comes out clean.
Nutrition Info (1 large muffin):
Calories: 219; Total Fat: 7 grams; Saturated Fat: 2 grams; Carbohydrate: 39 grams; Protein: 3 grams; Fiber: 2.5 grams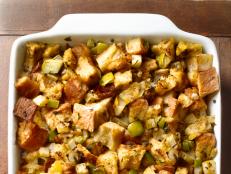 Everyone knows that stuffing is the best part of Thanksgiving. Choose the perfect one (or two) for your feast.