10 Casseroles With 500 Calories (or Less!)
Whether you like comforting casseroles for breakfast, lunch or dinner, we have plenty of lighter recipes to choose from, like French toast bake and classic tuna noodle casserole.
Casseroles are perfect when temps dips below freezing, and they're convenient too -- everything's all in one dish. Whether you like them for breakfast, lunch or dinner, warm up to any of these lighter casseroles -- each has 500 calories or less.
Weekends are a good time to whip up a breakfast casserole. An egg dish or a French toast bake will help start your day off right.
Lunch and Dinner Casseroles
These casseroles contain good-for-you ingredients like beans, veggies and omega-3 packed tuna—all for fewer than 500 calories per serving.
Toby Amidor, MS, RD, CDN, is a registered dietitian and consultant who specializes in food safety and culinary nutrition. See Toby's full bio »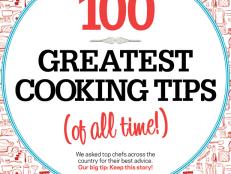 Food Network Magazine asked top chefs across the country for their best advice.