7 Habits of Smart Supermarket Shoppers
Practice these good habits to spend less time and money at the store.
1. Make a list.
Organize your list into categories relevant to your household to save time spent scanning the list and aisles. Sticking to the list will curb impulse purchases, helping you make healthier decisions, remain on a budget and curb time spent browsing in aisles.

2. Stick to in-season produce.
Fresh produce costs less in season, and it tastes better too. Buying it out of season means lower quality and higher prices.

3. Shop the perimeter.
Stick to the outermost aisles of the store for the freshest options, which include produce, the meat and seafood departments, and the refrigerated dairy aisle. Fresh foods tend to be healthier than most ready-to-eat items typically found in the center aisles of a supermarket.

4. Read nutritional labels.
Don't fall victim to marketing claims stamped on the front of a package. Buzzwords such as "Healthy" or "All-Natural" may sound good, but to understand what you're eating, scan nutritional labels, including the ingredients, to determine what you're buying. Health-minded shoppers should take note of the saturated fat, sodium and sugar content for each serving.

5. Skip the samples.
Snacking while shopping sends a message to your brain that it's time to eat, which may trigger the urge to impulse shop.

6. Reach for the back.
Supermarkets generally practice the stocking principle of arranging older items toward the front of the display. For the freshest options when it comes to foods like milk and ground meat, dig around at the back of the display case for items marked with later expiration or sell-by dates.

7. Be wary of deals.
Strategic wording by supermarkets may fool shoppers into believing they've scored a deal — signs boasting "Two for $8," "Limit 8 per customer" or "Special" may imply a sale without offering a cut off the full retail price.

More Shopping Tips
10 Ways to Save Time at the Supermarket
Lower Your Shopping Bill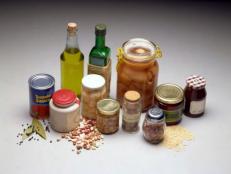 Shopping for your week's groceries is always a puzzle. How do you get everything you need in one shot and avoid midweek runs for forgotten items? Here are some tips from the Food Network Kitchens.