Making delicious iced coffee at home is a cinch. Best of all, the secret to the best coffee is to eliminate heat from the process altogether. Cold-processed coffee is less bitter, and it allows you to control the dilution of the final product. We used Peet's Baridi blend coffee beans, which are specially roasted for iced coffee, but any beans you like will do. Give the beans a few bursts in a coffee grinder, to a medium grind. Add 1/4 cup of the grinds to every cup of water you will use.


Add room-temperature water to the coffee grounds, and stir to combine. Cover with a lid, and leave the coffee at room temperature, agitating periodically, for 12 hours or overnight.

Strain the coffee through a coffee filter. Discard the grinds and the filter.



Meanwhile, make a simple syrup by combining equal parts granulated sugar and water in a saucepan over low heat, stirring until the sugar is completely dissolved. Allow to cool, pour into a bottle, then refrigerate.


If desired, dilute the coffee by up to 50 percent water. Pour over ice, and add simple syrup and cream to your taste.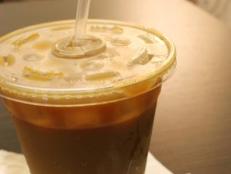 Sipping on a tall cup of iced coffee may be refreshing in the summer heat, but load it up with creamy and sugary add-ins and your drink can rack up the fat and calories. Here's the skinny on creating a lighter iced coffee and more on one hot trend for making a cup of Joe: cold brewing.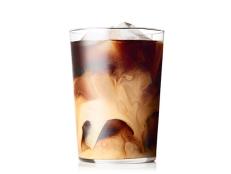 Coffee snobs will approve of this cold-brewed version from Food Network Magazine.