What You Need to Know About Nonstick Cookware
Using coated pans means having a different set of cooking rules and expectations.
1. Use medium heat or lower.
Avoid high heat on a coated pan, as it will shorten the pan's shelf life. There is also concern that high temperatures may release fumes that are toxic.

2. Don't preheat an empty pan.
Temperatures may soar in the pan, so add food from the start — or even some oil to keep temperatures low.

3. Avoid using metal utensils.
Protect the coating from scratches by using wooden, plastic or rubber utensils.

4. Foods prepared in a nonstick pan will not brown well.
High heat is necessary for a browned, seared surface to develop, and in addition to the heat restriction, the general understanding behind nonstick — which prevents food from sticking to the surface — means foods won't be able to adhere to a surface and form the browned bits that make up a golden crust.

5. Store nonstick pans individually or lined when stacked.
Stacking nonstick pans may damage the coating, so line the pans with paper towels to protect the surface.

6. Trash any pan with a damaged coating.
The pans may be more likely to release toxins when damaged, so toss out any pans with signs of wear and tear to the nonstick surface.

More Kitchen Tips:
Solutions for Common Issues with Stainless Steel Cookware
How to Clean Any Countertop Stainless Steel Kitchen Appliance
Multipurpose Kitchen Supplies: An A-to-Z Guide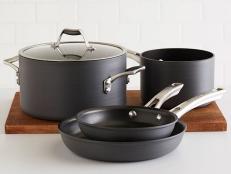 Every cookware surface has its own set of rules to guarantee correctly cooking food and ensure a long life on your shelf. Whether your cabinets are stocked with nonstick, cast iron or stainless steel (or you're thinking about a set to invest in), these tips will keep your pots and pans properly cared for.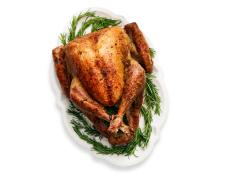 Save this link: It's everything you need to know about the big bird from Food Network Magazine.