At Home with Jonathan Bennett
The Food Network star gives us a tour of his Los Angeles house.
When Cake Wars host Jonathan Bennett moved into his Hollywood home two years ago, he wasn't much of a decorator — and dressing up a 3,000-square-foot, five-bedroom house was a daunting task. So he brought in his friend Willa Ford, pop singer-turned-interior designer, to help. Many months later, Jonathan is practically a design pro: "It was a crash course in decorating," he says. "I would never have paid attention to pillows before, but now I notice them." The finished house is a mix of simple, comfortable furniture and totally unexpected antiques — a style Jonathan refers to as "modern-cozy-weird." The look suits his ever-changing cast of housemates, which includes his stepmom, stepsister, some close friends and a rotation of guests who are in town for shooting (the number grows during pilot season). Jonathan loves that so many people feel welcome and at ease here. "I would never want anyone to be afraid to set a glass down on a table," he says. "It's just a very open house."
Photograph by Dave Lauridsen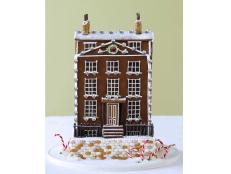 For only $77,910, you can own the "world's most expensive gingerbread house," loaded with pearls and a big, fat ruby and made in the precise image of your own home.