Reuben Ruiz is a finalist on Food Network Star, Season 10.
Reuben Ruiz, 27 (Miami), grew up in a traditional Cuban family that owns restaurants and started working in kitchens when he was just 10 years old. He struggled with his weight for many years, but he lost 100 pounds and kept it off — which is especially difficult when your family is in the restaurant industry. He specializes in healthy dishes with a Latin influence and lots of flavor. Honest, outspoken and high energy with a strong work ethic, Reuben is ready to inspire others with his journey.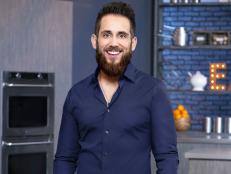 Get to know Food Network Star finalist Reuben Ruiz ahead of the Season 10 premiere on Food Network on Sunday, June 1 at 9|8c.