At Home with Kelsey Nixon
Kelsey moved into her apartment on the Upper West Side a while ago, but the place only recently started to feel like home. The Kelsey's Homemade host and her husband, Robby, were too busy at first to focus on decorating the two-bedroom home: They had a toddler, Oliver (now 3), and Kelsey was soon expecting another baby. But then their world was upended: Their son Leo was born very premature and passed away after a few weeks in the neonatal ICU. "We had such a terrible loss," Kelsey says, "and I just didn't know how to pass the time and get through it." She needed a project, and she turned to the apartment. "I really wanted to create a whole space that I love," she says. "It was such a therapeutic thing for me to throw myself into my home." Making it a happy, kid-friendly space for Ollie was her first priority, and she also wanted to mix her love of color with her husband's fondness for all things modern. She filled the apartment with plants, like a jasmine tree and succulents — "to give it some soul," she says — and she hired a decorating service, Homepolish, to help arrange the family's keepsakes in a meaningful way. Their bookshelves are a color-coded mix of baby albums and beloved classics. The overall result is a place where Ollie can be happy and where the family can move forward together. "I feel so fond of my home now," she says, "because of the purpose behind pulling it all together."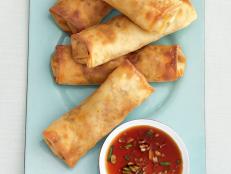 Though it's easy to pick up the phone and call for Chinese food takeout, it can be just as simple to cook up those white-box favorites at home with our recipes.