A native of Nashville, Carla Hall received a degree in accounting from Howard University, but traveling through Europe awakened her passion for food and inspired a new career path. Carla attended L'Academie de Cuisine in Maryland, where she completed her culinary training, going on to work as a sous chef at the Henley Park Hotel in Washington, D.C. She also served as executive chef at both The State Plaza Hotel and The Washington Club, and she has taught classes at CulinAerie and her alma mater L'Academie de Cuisine. Her approach to cooking blends together her classic French training and Southern upbringing for a twist on traditional favorites.
In addition to being a judge on Halloween Baking Championship, Carla is a co-host of ABC's daytime talk show The Chew, and she is best known as a competitor and fan favorite on Bravo's Top Chef and Top Chef All-Stars. She is the owner of Carla Hall Petite Cookies, an artisan cookie company that specializes in creating sweet and savory "petite bites of love." In 2012 Carla released her debut cookbook, Cooking with Love: Comfort Food That Hugs You, and in 2014 she released Carla's Comfort Food: Favorite Dishes from Around the World. In 2015 she opened her first restaurant, Carla Hall's Southern Kitchen, a fast-casual eatery featuring iconic Nashville classic dishes and family recipes. Carla lives in Washington, D.C., with her husband, Matthew Lyons, and her stepson, Noah.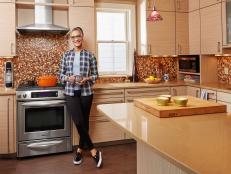 Chef and Food Network judge Carla Hall shows us her Washington, D.C., kitchen.