David Bull is the host of Food Network's Sugar Dome.
David is an award-winning TV host who over the last 15 years has hosted more than 35 shows on British and U.S. network television, including the BBC, ITV, Channel 4, Five, Living, Sky and Food Network. David has had a unique career path, beginning as a medical doctor, working in London in the fields of general medicine and emergency medicine. He started his broadcasting career as an on-screen doctor for Sky TV giving advice to those traveling abroad. Later, he joined BBC1's Newsround, the longest-running children's news show in the world, where he became the first person to broadcast exclusively to kids about health issues. Since then his shows have encompassed all genres, including talk, entertainment, consumer, health and wellness, science and technology and teenage and young people's issues. David crossed the Atlantic in 2009, starting his U.S. career on The Rachael Ray Show and WebMD. Sugar Dome is his first U.S. show as host.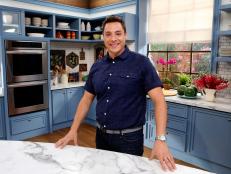 Get to know Season 7 Food Network Star winner and host of Sandwich King, Jeff Mauro.