In 2010 Marc Forgione won Season 3 of The Next Iron Chef.

Marc Forgione competed on and won season three of The Next Iron Chef in 2010, beating out some of the country's top chefs for the ultimate culinary title – Iron Chef. Marc began his career at the age of 16, joining his father, Larry Forgione (a culinary legend who revolutionized American-style cooking in the '70s and '80s), in the kitchen at An American Place. Marc fully embraced his father's livelihood and has built on his unique culinary foundation to carve out an identity of his own. Marc opted for a traditional four-year education at the University of Massachusetts at Amherst, where he graduated from the School of Hotel and Restaurant Management. He spent his summers working the line at restaurants such as Above in New York, with acclaimed chef Kazuto Matsusaka. These stints would lay the groundwork for Marc's post-collegiate toils, again alongside his father at An American Place and later under Patricia Yeo at AZ. When Yeo and celebrated chef Pino Maffeo opened Pazo, they took Marc along to serve as sous chef at the short-lived eatery. When Laurent Tourondel set out to develop his flagship, BLT Steak, he recruited Marc as his sous chef.

In an effort to diversify his experience, Marc left for France, where he secured a series of humble posts under Michel Guerard in Eugenie les Bains. Working at three of the region's finest restaurants, Le Pres D'Eugenie, Ferme aux Grives and Le Cuisine Minceur, Marc absorbed the nuances of classic French techniques and further developed what had already become a meaningful relationship with ingredients.

When he returned to New York, Marc promptly reunited with Tourondel, who invited the now seasoned chef to serve as chef de cuisine at BLT Prime. The restaurant would go on to earn sterling accolades from relevant publications nationwide, culminating in a 27 in the Zagat Guide, making it the highest-ranking steakhouse in the history of New York City. Following his role as chef de cuisine, Marc was named corporate chef for the BLT Restaurant Group, a position that enabled him to develop recipes and maintain the quality of the BLT brand as it went on to include more restaurants across the country. Marc has played a key role in the openings of BLT Fish and BLT Market, as well as the Washington, D.C., San Juan, Puerto Rico, and Dallas locations of BLT Steak.

With Marc Forgione, formerly known as Forge, Marc's first restaurant, he has created an approachable place "that people walk by and are compelled to enter and where the ingredients are the star." Marc was most recently coveted with his second Michelin star in the 2011 guide, making him the youngest American-born chef and owner to receive the honor in consecutive years (2010, 2011). In addition, Marc received a two-star review from Sam Sifton of The New York Times.

The restaurant also earned the distinction of being named "Key Newcomer" by Zagat Guide 2009, "Top 25 Restaurants in NYC" by Modern Luxury magazine and "All Star Eatery" by Forbes magazine. Marc was awarded "Star Chefs Rising Star of the Year Award 2010," named "Rising Star 2008" from Restaurant Hospitality magazine and mentioned "New Formalist" by Esquire magazine in 2008.

Marc currently lives in New York City.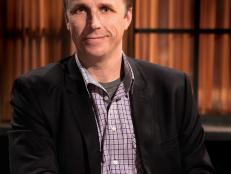 Ask Chef Marc Murphy where he grew up and he'll fire off a list of cosmopolitan destinations — Milan, Paris, Villefranche, Washington, D.C., Rome and Genoa — "and that's before I turned 12," he'll explain. This dizzying list of hometowns served as an excellent education in French and Italian cuisine, though as a teenager this was not his first passion. When the reality hit that he didn't have the funds to become a professional racecar driver, Marc followed his brother to the Institute of Culinary Education. After graduation he apprenticed at restaurants in France and Italy before returning to New York, where he landed a job as a line cook at Terrance Brennan's Prix Fixe. He stayed there for almost two years, working his way through every station in the kitchen and forging a professional bond with Brennan's Sous Chefs Joseph Fortunato and David Pasternak. Eager to return to Europe, Marc flew to Paris and landed a position at the one-star Le Miraville, where he stayed for one-and-a-half years. Afterward, he staged at the famed Louis XV in Monte Carlo, where Executive Chef Alain Ducasse was so impressed with Marc's skills that he personally made arrangements for him to work with Sylvain Portay at Le Cirque once he returned to the States. Marc still considers Portay to be his greatest teacher. "Sylvain was above all concerned with coaxing out the most-vibrant, interesting flavors any ingredient had to offer, yet he insisted on minimal manipulation," he recalls. Following Le Cirque, Fortunato tapped him to work as a sous chef at Layla, Drew Nieporent's Middle Eastern fantasy in Tribeca, where he met consultant Georges Masraff. When Masraff joined forces to open Cellar in the Sky at Windows on the World, he recruited Marc to serve as executive chef. After receiving critical acclaim, including a two-star review from The New York Times, Marc headed uptown to serve as executive chef of La Fourchette, where NYT critic Ruth Reichl awarded him another glowing two-star review, citing his "open desire to transform food [so that] in his hands, even a simple green salad ... looks like a ruffled hat in a painting by Renoir." In March 2004 Marc opened his first solo enterprise with Landmarc [Tribeca], which won rave reviews both for its eclectic French and Italian menu as well as its highly untraditional wine list. Following its success, Marc opened Ditch Plains in the West Village in 2006 serving casual, beach-style cuisine such as lobster rolls, fish tacos and the infamous ditch dog, as well as other comfort food favorites. In 2007 Marc was given the opportunity to open another Landmarc restaurant in the pres­tigious Time Warner Center, where he brought his bistro-style cuisine midtown. In October 2013 Marc opened Kingside at the Viceroy New York hotel on New York's iconic West 57th Street, serving his interpretation of New American cuisine. Marc's restaurants now fall under the Benchmarc Restaurants by Marc Murphy name, where he acts as executive chef and owner. In addition to the restaurants, Marc also heads up the company's catering division, Benchmarc Events by Marc Murphy, where his signature style of accessible contemporary cuisine transcends the boundaries of what is offered in his restaurant locations. Today Marc's involvement in the industry moves beyond the restaurants as well, with a regular role as a judge on Food Network's top-rated hit Chopped as well as appearances on other hit series such as Guy's Grocery Games, Beat Bobby Flay and Worst Cooks in America. Marc also appears on The Rachael Ray Show and The Today Show, among others. He is the president of the Manhattan chapter of the New York State Restaurant Association, a board member of City Harvest, Culintro and Passport NYC at the 92nd Street Y Culinary Camp, as well as a member of the Food + Finance High School's Industry Advisory Board, a member of the Leadership Council for Share our Strength's No Kid Hungry campaign and the national spokesperson for Share Our Strength's Dine Out For No Kid Hungry. In 2012 Marc joined the U.S. Department of State's Diplomatic Culinary Partnership, where he takes part in public diplomacy programs that engage foreign audiences abroad as well as those visiting the United States. Marc's debut cookbook, Season with Authority: Confident Home Cooking, was released by Houghton Mifflin Harcourt in April 2015.