Rossi Morreale is a television personality, producer and former college football player. He was born and raised in Arkansas and attended the University of Arkansas, where he played football for the Razorbacks as starting wide receiver. Rossi has hosted numerous television shows, including American Airgunner, Belly of the Beast, Can You Duet, Riding with Rossi and Tunnel of Fire, and served as correspondent for Extra. He starred in and produced his first movie, Life's an Itch, in 2013. A Southern boy at heart, he currently resides in Redondo Beach, Calif.
Catch Rossi on Food Network's Halloween Wars, Season 5.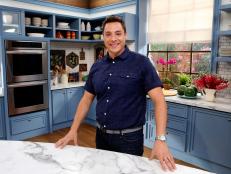 Get to know Season 7 Food Network Star winner and host of Sandwich King, Jeff Mauro.