Q: I was given a large rosemary plant as a gift. I can only find recipes that call for chicken, which I do not like. What else can I use the rosemary for? Kathryn Psik, New Brighton, PA

A: Rosemary's piney woodsiness goes well with quite a few foods, not just chicken. It's a great match for root vegetables, especially fingerling potatoes -- toss them with a small handful of leaves before you put them in the oven, or make a bed of the branches to roast them on. Or, try it with gamier meats, like lamb; it's fantastic for marinades with garlic and juniper berries. Since rosemary's flavor is so strong, you don't have to use much of it to bring big flavor to the table.

- Food Network Kitchens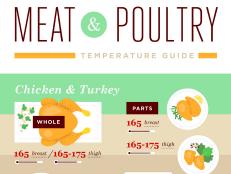 Use our internal-temperature chart to serve perfectly cooked meat every time.