The three most common types of Chinese food found in the U.S.
Chinese food, due to the sheer size of China and its population, has many regional varieties. The most commonly-found regional cuisines in the U.S. are Cantonese, Szechuan and Hunan.

Cantonese cuisine tends to be mild, with less of an emphasis on chiles and more on the natural flavors of fresh ingredients. Due to Canton's proximity to the water, fresh seafood also features prominently. Most Americanized Chinese food is based on classic Cantonese cooking, due both to the large influx of immigrants from the region as well as the overall mildness.
Classic Cantonese dishes include:

Dhar siu, also known as barbecued or red-cooked meat

Shark fin soup

Simple stir-fried vegetables


Szechuan food is spicier, using an array of chiles — most famously tongue-numbing Szechuan peppers and spicy chile bean paste. Because the region is warm and humid, there's an emphasis on preservation techniques like tea-smoking, salting, and pickling. And though pork and chicken are the most-commonly eaten meats in China, beef plays a greater role in Szechuan food due to the widespread presence of oxen for farming. As oxen meat can be tough, it's generally thin-sliced and stir-fried.

Szechuan staples include:

Dan dan noodles
Kung Pao chicken

Tea-smoked duck


Hunan cooking is similar to Szechuan, though generally even spicier, and with a taste for flavor combinations like sweet and sour or hot and sour. Drying, smoking, and pickling are popular, as are long-cooked, elaborate dishes. There's a much-greater variety of ingredients available due to the nature of Hunan's land versus Szechuan's, and Hunan cuisine doesn't use Szechuan peppercorns, preferring instead to get spice from various chiles.

Some examples of classic Hunan dishes include:

Dogan chicken
Mao's braised pork
Oxtail porridge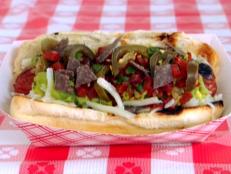 Feed a crowd with grilled hot dogs and fantastic regional hot dog toppings, from Chicago-style to Venezuelan.