On a break from their hectic new lives in the spotlight, four Food Network celebs get together for cocktails, snacks and juicy gossip.
They barely have a minute to themselves these days, so when four of Food Network's rising stars—Sunny Anderson, Anne Burrell, Alex Guarnaschelli and Aida Mollenkamp—got together for a long-overdue happy hour, we knew it would be a great party. The food part was easy (we asked each of them to bring a cocktail and a snack), and the conversation never lagged: They dished about restaurants, chefs, and of course, their newfound fame as TV cooks."We're in this same boat, being at similar points in our careers," Alex says. "It feels like we're in the same high school graduating class."

They've all experienced the bizarre sensation of seeing themselves on TV and being recognized in public. Anne shared a story about being spotted in a Williams-Sonoma store, and how unprepared she was for the fan club that had assembled out front: "There was a group of 10 people waiting for me!" she says, still seeming shocked. Sunny can't believe it when people come up to her on the street. "I'm like, 'Are you serious?' TV makes me look really good," she says. "I don't know how anyone would recognize me in person."

We thought the women would be a little competitive about their shows (or at least about the food they brought to the party) but there wasn't a hint of that. "These are some quality chicks," Aida says."And we're all so different that we end up bringing different things to the table," Alex adds. "If there were three other people here just like me, then my competitive side might come out."

Aida Mollenkamp
No frilly cosmos for this crowd: "My taste in cocktails has been described as manly," Aida jokes. "I'm a huge fan of bourbon and whiskey. I don't drink much, but when I do, I order one strong cocktail!" The San Francisco–based cook mixed up a whiskey drink for everyone, plus a simple snack of crackers with homemade jam, great for last-minute guests. "This is one of those dishes people can remember how to make without even looking at the recipe."

Anne Burrell
Anne concocted a girls' night cocktail with cucumber-infused gin, which reminds her of a spa: "It's so refreshing, like a facial in a glass!" she says. "Just try not to drink too many." Her summery crostini are served at room temperature, and they travel well: You can prep the topping at home, then assemble at the party.

Sunny Anderson
Sunny wanted to serve finger food, so she brought lettuce wraps. "Girls aren't supposed to do knives and forks, not when they're just hanging out!" she says. She wrapped up two crowd-pleasers: chicken and potato salad. She also made spiked ice cream floats, because, she says, "I hate eating ice cream rock hard."
Alex Guarnaschelli
Alex has been working as a chef for 16 years and can't remember the last time she had a Saturday off. So when she entertains, she splurges on dishes like this bacon flatbread. "It gives women the courage to carb out together," she says. These were easy: She did all the prep pre-party, then threw it in the oven right before serving. "It's the perfect finishing touch to impress everybody."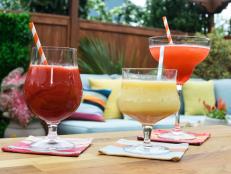 You can't have a pool party without your floaters--liqueurs that float on the top of your drink! The Kitchen has 3 frozen cocktail floater ideas perfect for poolside sipping.