Mix-and-Match Spiced Nuts
Make a few batches for holiday snacking.
1. Choose Your Nuts
Measure out 4 cups of raw unsalted nuts in any combination; set aside.

Peanuts
Almonds
Cashews
Walnuts
Pecans
Pistachios
Macadamia nuts
Hazelnuts

2. Pick Your Mix-Ins
Measure out 1 1/2 cups total (choose 1 or 2, or skip this step).

Corn nuts
Potato chips
Mini pretzels
Oyster crackers
Rice or corn cereal squares
3. Select a Flavor
Prepare your choice of spice blend in a small bowl; set aside.

Asian Sesame
Mix 1 1/2 teaspoons kosher salt, 2 tablespoons sesame seeds, 2 teaspoons soy sauce, 1 tablespoon sesame oil, 1 1/2 teaspoons grated ginger and 1 teaspoon each red pepper flakes and Chinese five-spice powder.

Paprika-Thyme
Mix 1 1/2 teaspoons kosher salt, 3 tablespoons sugar, 1 1/2 teaspoons each paprika and minced thyme, 3/4 teaspoon mustard powder and 1/4 teaspoon each cinnamon and pepper.

Garlic-Herb
Mix 1 teaspoon each kosher salt and granulated garlic, 1 tablespoon each minced rosemary, sage and thyme, and 1/2 teaspoon pepper.

Chipotle
Mix 1 1/2 teaspoons kosher salt, 1 tablespoon sugar, 2 to 3 teaspoons chipotle chile powder, 1 teaspoon each ground cumin and coriander, 1 teaspoon grated lime zest and 1/4 teaspoon granulated garlic.

Cinnamon Sugar
Mix 1 1/2 teaspoons kosher salt, 6 tablespoons sugar, 1 1/2 teaspoons cinnamon, 1/2 teaspoon each ground ginger and allspice, and 1/4 teaspoon each ground cloves and nutmeg.

4. Bake the Nuts
Preheat the oven to 350 degrees F and brush a rimmed baking sheet lightly with vegetable oil. Whisk 1 large egg white in a large bowl until frothy. Add the nuts and any mix-ins. Sprinkle with the prepared spice blend and toss to coat. Spread the nut mixture evenly on the baking sheet and bake, stirring occasionally, until golden brown, 15 to 20 minutes; let cool on the baking sheet.

5. Add More Mix-Ins
Add up to 1 cup total to the nut mixture (choose 1 or 2, or skip this step); toss to combine.

Raisins

Dried cranberries

Banana chips

Dried pineapple, chopped

Bacon, cooked and crumbled
Coconut flakes, toasted

Popcorn
Dried chiles, crumbled (up to 1/4 cup)
Customize your own nuts or try one of our combinations:

Photographs by Charles Masters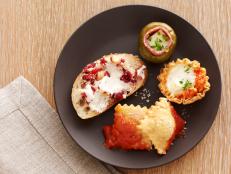 Make these pre-dinner bites from Food Network Magazine in 15 minutes or less.