Try a new stuffing or three—the options from Food Network Magazine are endless.
1. Choose a Bread
Chop your choice of bread into 1/2-inch cubes to make 16 cups. Stale bread works best for stuffing—if yours is fresh, spread out the cubes on baking sheets and dry in a 300 degrees F oven, 15 to 20 minutes.
White
Sourdough
Potato
Multigrain
Challah
Brioche
Semolina
Rye (use 8 cups with 8 cups white bread)
Pumpernickel (use 8 cups with 8 cups white bread)
2. Make the Base
Heat 1 stick butter in a large skillet over medium heat. Add 2 cups chopped onions, leeks or scallions, 2 cups diced celery, 1 tablespoon each minced fresh sage and thyme, and salt and pepper to taste. Cook, stirring, until the vegetables are tender, about 5 minutes. Add 3 cups low-sodium chicken or turkey broth; bring to a simmer and remove from the heat.
3. Prep Your Mix-Ins
Meanwhile, prepare 1 or 2 mix-ins. Beat 2 eggs with 1/4 cup chopped parsley in a large bowl; stir in the bread cubes, the vegetable-broth mixture and the prepared mix-ins.
Mushrooms: Slice 1 1/4 pounds and saute in butter.
Fennel: Chop 1 large bulb, toss with olive oil and roast at 400 degrees F, 25 minutes.
Kale: Stem and chop 1 bunch; blanch 2 minutes.
Butternut squash: Peel, seed and cube 1 large squash; toss with olive oil and roast at 400 degrees F, 35 minutes.
Wild rice: Cook 1/2 cup as the label directs.
Apples and/or pears: Cut into small chunks and saute in butter.
Stir in 1/2 pound, if desired.
Ham, diced
Salami, diced
Bacon, chopped and cooked
Pancetta, chopped and cooked
Sausage (andouille, chorizo or Italian), cooked and crumbled (use 1 pound)
5. Add More Mix-Ins (Optional)
Stir in up to 1 cup total of these ingredients, if desired.
Cheese: Shredded parmesan, gruyere, gouda or cheddar
Dried fruit: Cranberries, raisins, apricots, dates or figs (chopped, if large)
Nuts: Roughly chopped walnuts, pecans, almonds, hazelnuts or pine nuts
6. Bake the Stuffing
Transfer the mixture to a buttered 3-to-4-quart baking dish and dot with 2 tablespoons butter. Cover with foil and bake at 375 degrees F, 30 minutes. Uncover and bake until golden, about 20 more minutes.
Customize your own stuffing or try one of our combinations: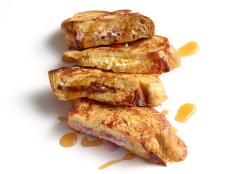 Go all out for brunch with this customizable recipe.