24 Hour Restaurant Battle Judges
Get to know the men and women who will determine the $10,000 winners each week.
Alison Brod
Alison Brod runs Alison Brod Public Relations, a 55-person, New York-based agency specializing in lifestyle, fashion, beauty and celebrity PR and marketing. She has represented more than 60 restaurants to date, among many other notable clients like Mercedes-Benz, L'Oreal, Victoria's Secret PINK, LVMH, Barnes & Noble and Godiva.
Tim Gannon
Tim Gannon is co-founder of the popular American restaurant chain Outback Steakhouse, and creator of their famous "Bloomin' Onion" recipe. He was named Entrepreneur of the Year in 1994 by Inc. Magazine and was inducted into the U.S. Business Hall of Fame, along with his business partners Chris Sullivan and Bob Basham, in 2009.
Gabriella Gershenson
Gabriella Gershenson is a senior editor at Saveur magazine. Until the summer of 2010, she edited the dining section and the Feed blog at Time Out New York magazine. Her articles have appeared in The New York Times, San Francisco Chronicle, The Boston Globe and several other publications. She's been a regular guest on WOR-AM's Food Talk and NYC TV's Eat Out New York, and has consulted on chef Jamie Oliver's travelogue, Jamie's American Dream. Don't miss Gabriella's blog on food and culture.
Ben Leventhal
Ben Leventhal is the founder of Eater.com and is currently the managing editor of lifestyle content for NBC, where he oversees TheFeast.com. He's appeared in publications including The New York Times, New York Magazine, Details, Food & Wine, Associated Press, San Francisco Chronicle, Los Angeles Times and DailyCandy. Food & Wine awarded Ben a Tastemaker Award in 2006 and called Eater "required reading."
Drew Nieporent
Drew Nieporent is a celebrated restaurateur and founder of the Myriad Restaurant Group with numerous notable restaurants across the country, including Tribeca Grill and Nobu New York City.
Marcus Samuelsson
Marcus Samuelsson is an award-winning chef, restaurateur, cookbook author, philanthropist and food activist. His most recent restaurant is New York City's acclaimed Red Rooster Harlem, which opened in December 2010.
David Sax
David Sax is a journalist whose work has appeared in many notable publications, including The New York Times, New York Magazine and Vanity Fair. He is a contributing editor at Saveur and writes about food for Bloomberg Businessweek. His first book, Save the Deli, chronicles the history and culture of Jewish delicatessens around the world. David was honored with a James Beard Award in 2010.
Geoffrey Zakarian
Geoffrey Zakarian has presided over some of the country's top kitchens over the past 25 years. He opened two New York City restaurants, Town and Country, both of which received three stars from The New York Times. In 2010, Geoffrey opened The Lambs Club at The Chatwal Hotel and The National in New York City.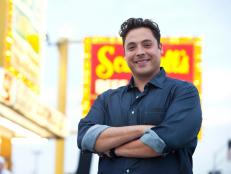 Jeff Mauro finds the most budget-friendly bites in cities across the US on his new show.