Sometimes, despite our best intentions, things go wrong when baking. We've got a couple of common dessert fails that our viewers sent in. We'll tell you what went wrong and how to fix it!
Problem: Frosting melted off the cake
Reason: The cake wasn't cooled completely before frosting. The primary ingredient in frosting is fat, which melts when it's warm.
Fix: Refrigerate before you frost!

Let your cake cool on the counter.
Wrap the layers in plastic.
Put them in the refrigerator for a couple of hours or overnight.
Frost the cake.
Reason: Unevenly scooped cupcakes and undercooked.
Measure even amounts of batter for each cupcake. Use an ice cream scoop to make sure each cup has the same amount.
Rotate your baking tray halfway though the baking time. Most ovens have hot spots, so rotating will ensure everything cooks evenly.
You can't fix an already sunken cupcake, so cover it up with icing!
Take your 4th of July bash to the next level with these fun and easy party ideas!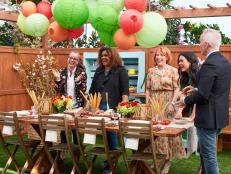 Your summer soirees are about to heat up because party planner to the stars Marcy Blum is revealing all the latest party trends!