Game Night: Piece of Cake Party
Throw the ultimate Game Night get-together with these fun and easy food crafts and DIY decor ideas!
Triple Cheese, Cheese Dice:
Cut off the bottom of an empty milk carton about 8 inches high (it should be the shape of a large dice). Mix together 4 blocks cream cheese, 1 bag shredded mozzarella, 1 bag shredded Swiss and 1/2 cup grated Parmesan in a bowl. Line the inside of the milk carton with plastic wrap and fill with the cheese mixture. Firmly press the mixture into the mold to get it in the corners. Cover with plastic wrap and refrigerate for 1 hour to firm. Once firm, remove the mixture from the milk carton and remove the plastic wrap. Arrange olives on the cheese to replicate the dots on dice. Serve with your favorite dippers.
Hole punch (optional)
Playing cards
Scissors
Using a hole punch (or scissors), cut a hole the size of a wine glass stem about 3 inches in from the top right corner of a playing card (face cards work great for this!).
Cut a slit from the corner of the card to the hole you just made.
Put different cards on wine glasses for all your guests.
Playing Card Table Runner:
Deck of cards (This craft is great for using up a deck with some missing cards)
Laminate sheets
Scissors
Using 2 cards at a time, turn 1 face-side up and 1 face-side down. Turn the face-side down card so it is horizontal and perpendicular to the face-side up car.
Tape the face-side down card on top of the face-side up card at the top right corner of the face-side up card, slightly overlapping it about 2 inches from the edge.
Repeat this process as many times as you want (depending on how big you want the table runner).
Once you make multiple sets of 2, lay 4 sets of 2 down at an angle (face-side down aimed up and slightly right) on top of the sticky side of a sheet of laminate.
Make another row under the top row; repeat this process until you have the desired length.
Place laminate sheets on top of your card design to secure, then trim off the edges.
Place food and drinks on top of your new table runner and enjoy!
Crispy Rice Billiard Balls:
Make your standard crispy rice treat recipe. While the mixture is still slightly warm, spray your hands with nonstick cooking spray and roll into medium balls (the size of pool balls). Make 10 to 15 of them.
Using fruit leather, cut 2-inch-wide strips of all different colors to represent the striped balls, and cover half of the balls with the stripes. Completely wrap the other half of the balls with fruit leather to represent the solid balls. To make the 8 ball, cover 1 ball with black licorice. Melt a little white chocolate and put a dab on top of each ball (this acts as your glue). Put a white chocolate disk on top of each of the melted white chocolate dots. With a black edible marker, write a number on top of each white chocolate disk. Arrange the balls in a triangle shape on a platter and serve with chocolate-covered pretzels or breadsticks to represent the pool cues!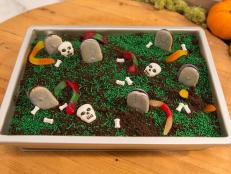 Halloween is the perfect time for one of The Kitchen's Piece of Cake Parties! We've got 3 super simple party ideas that'll scare your ghouls and goblins away. Some of the best tricks come together with very little planning, so try these tricks and spook out the crowd!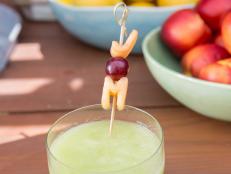 Throw a great summer party with our easy tips for pleasing a crowd. We'll show you how to upgrade your favorite dishes and let your guests customize their cocktails with these new ideas for food, drinks and more!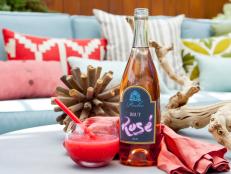 Summer is winding down, but it's not too late to throw one more outdoor party and go out with a bang! We're getting one last taste of summer with these fun, new party ideas. The Kitchen and party planner Mary Giuliani teamed up to make a memorable summer party with "snacktivities" for all ages.