How to Keep Party Spritzers Cool
Hosting a crowd at a backyard cookout or potluck? Try this trick from the pros on The Kitchen.
When you're serving a fruity drink or spritzer in the summer heat, try freezing your juice base in advance. For grapefruit spritzers, freeze a carton of grapefruit juice until it's a solid block, then cut off the cardboard carton and place the block in your drink dispenser. Decorate with fruit slices and top off with white wine, more juice and some seltzer for fizz. Try this trick with other types of juice and fruit.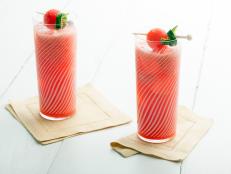 Watermelon is super versatile when it comes to drinks, including cocktails. Check out these one-of-a-kind recipes and start embracing the wonderful world of watermelon cocktails.