For a riff on classic s'mores, try one of these pairings from The Kitchen.
Katie sandwiches her chocolate and marshmallows between two peanut butter cookies.
Jeff doesn't use cookies at all! He uses cooked mini waffles instead of graham crackers.
Marcella doesn't change the basic ingredients, but instead brings heat by adding candied peppers.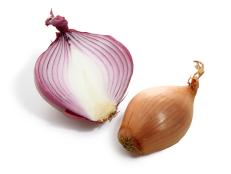 Hot tips from Food Network Kitchens' Katherine Alford: Keep red onions on hand: They're milder than yellow or white ones, so you can eat them raw.