Alex's Star Report: A Cranky Italian, Reconstructed TV Dinners and a Hollow Victory
Finalists Erin Campbell and Damiano Carrara preparing their dishes for the Mentor Challenge, Freeze-Out, as seen on Food Network Star, Season 12.
First things first this week. So all we had to do was spring some frozen ingredients on the Food Network Star contestants to see a whole other side of Damiano's personality? There was no talk of Italy. No farm stand of fresh fruit that he will bring back to the bakery. There was only a cranky and somewhat compellingly edgy Damiano making a shortbread cookie with (gasp!) frozen egg yolks and (eek!) frozen butter. The cookie looks a little overbaked, and the fruity gelato he makes from ice pops is, according to Bobby Flay, a bit light on flavor. Not one of Damiano's strongest dishes here, but I kind of like this side of him. There is something worth exploring with him when life is not filled with unicorns and Italian gelato dreams.
I also love this challenge. It tests, as Bobby says, the "ingenuity" and resourcefulness of each finalist. With guest judge Lorraine Pascale, the contestants are given a few basic staples, a couple of freezers full of savory and sweet foods and an hour to bake up a dish. Baker Erin is, of course, ecstatic and smartly opts to make a Black Forest sponge cake with a mix of different freezer ingredients. While her dessert looks good, it's her presentation that wows. She explains how baking has always been her refuge from being bullied at school. That's something everyone can relate to: cooking/baking as an outlet for the more painful things in life. Kudos to her for making that visceral connection between baking and her emotions and sharing it!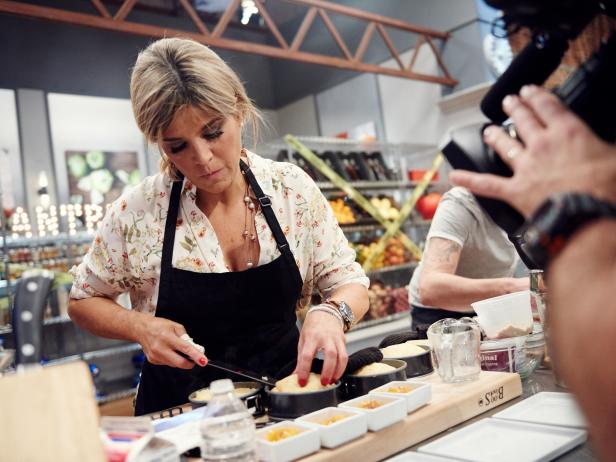 Finalist Ana Quincoces preparing her dish, Mango Tres Leches with Bruleed Mango Compote, for the Mentor Challenge, Freeze-Out, as seen on Food Network Star, Season 12.
Finalist Ana Quincoces preparing her dish, Mango Tres Leches with Bruleed Mango Compote, for the Mentor Challenge, Freeze-Out, as seen on Food Network Star, Season 12.
Finalist Ana Quincoces preparing her dish, Mango Tres Leches with Bruleed Mango Compote, for the Mentor Challenge, Freeze-Out, as seen on Food Network Star, Season 12.
Ana's "tres leches" cake (which was actually made with only one kind of milk) is tremendous. In her presentation, she explains that on dates, "if the end of the meal comes and they say, like, 'no dessert,' they're up for elimination," making Bobby laugh out loud. I think Bobby really loves her cooking and hopes her presentations will improve enough to match her flavors. I am not sure Giada De Laurentiis is as convinced, though.
Tregaye takes an entire freezer full of different desserts and makes them into a bread pudding. She tells us her mother always said not to waste food, and she exclaims, "I even freeze my milk!" I can't tell if the bread pudding is overkill (I think it contains a box of eclairs AND a cheesecake?), but she still remains one of the strongest finalists. Joy is also a strong contender, but her TV dinner deconstructed and reconstructed as a TV dinner tastes like, well, "a TV dinner," Giada says. Bobby reveals that his mom gave him TV dinners as a kid. Joy stated earlier, "I know some people like TV dinners, and, you know, God bless ya," adding that "you have to go to church twice on Sunday" for making them.
Finalist Tregaye Fraser during the Mentor Challenge, Freeze-Out, as seen on Food Network Star, Season 12.
The real point in this challenge is who will coax flavor and nobility from these frozen foods. There's a lot of flavor in these freezers, and a worthy Food Network Star knows how to get that on the plate. Jernard is also wonderful, and his biscuit looks so tasty. I want to reach through the screen, grab it and spread salted butter on it. My only question is when do we move beyond his wife and kids? When do we hear more about Jernard and not whether his wife would make a dish from frozen food? Jernard has the hypnotic way of talking, almost like Ina Garten. (I don't care what she makes or where she is — I am on board with Ina and her succulent roast chickens, tulips and Jeffrey as a dinner companion.)
The winner? Tregaye. This decision surprised me a little, considering Bobby said, "You just gave us a laundry list of ingredients," and Giada asked her, "Where was that sass?" This might have been the best challenge so far, because the contestants are dwindling. In a nutshell: It's "throw down or go home" time.
Damiano, post-freezer experience, is in NO mood for a party. Or is he? Either way, it's time for a tiki party with guest judge Anne Burrell. There are only six finalists left, and they have to pair up. Hmmm. No one wants to partner with Ana. Could it be because at least three finalists have gone home after working with her as a teammate? She is a tremendous cook; there is no doubt about that. And her pork sandwich and rice pudding look divine. I can tell who is a strong finalist when I can almost guess what dishes they will make. Ana's food suits her point of view.
Damiano's lime tart with orange mousse seems all him. Joy's Jezebel chicken is something she makes at her restaurant. I can't see a dud in the bunch right now. Then why do I somehow miss Rob? I miss the lunch lady. I also miss Yaku, the affable surf 'n' turf king. (They're both competing on Star Salvation — see what they're up to by watching recent episodes.)
Finalists Erin Campbell and Jernard Wells during the Star Challenge, Tiki Takeover, as seen on Food Network Star, Season 12.
While the food is always paramount in Bobby's book, Giada goes for relatability in presentation. This challenge also asks for a six-minute demo from each duo. That's a long time to be up on stage! It's also a long time to share the stage with another finalist. First up? Erin and Jernard. I really think this duo is headed for disaster, as Erin tries to micromanage and script the six minutes and Jernard wants to stay organic and natural. The result? A fun presentation between two finalists who are able to share the stage and find common ground. It's TV magic!
Ana and Joy are next. If the viewers were planning on asking Ana what she put in her food, she explains, "I could tell you what's in it, but then I'd have to kill you." Hmmm. Crickets from the crowd. Is this tiki party banter or two finalists fighting for stage time? Joy seems lost in Ana's laundry list of ingredients and tells her they have to wrap it up. As fluid as Jernard and Erin seemed, that's how awkward Joy and Ana are. Le sigh.
Tregaye and Damiano are the last to demonstrate, and Damiano, fresh off his grumpy streak, says to Tregaye, "Everybody was really, really boring." They decide it's time to turn up the tiki, according to Tregaye. They get the crowd popping-and-locking tiki style, but there is no food talk! Damiano's tuna "poke" seems overwhelmed with raw onion, and only Tregaye's cooking holds steady. I totally understand why Damiano and Tregaye styled themselves in relation to what they saw with the other finalists, but I think they also took away from their strengths by doing so.
Finalists Tregaye Fraser and Damiano Carrara during the Star Challenge, Tiki Takeover, as seen on Food Network Star, Season 12.
Who wins? I couldn't decide if Erin and Jernard pulled it off or if Tregaye's cooking and Damiano's party fun were enough to score a win. The winners: Erin and Jernard. They seem an unlikely duo, but that's often what ends up making the magic on TV. I would watch them together in a series for sure.
Ana and Joy are the bottom two. That's no surprise, but will it be Joy's strength in the presentation or Ana's tremendous cooking that wins over the judges? It's almost a Bobby (food) versus Giada (presentation) question here! Joy is sent home. But it's a hollow victory for Ana, because the other finalists don't look happy to see her in the stew room when the smoke clears. This almost felt like a Food Network Star episode that finished on a "Real Housewives" note. Who will be left at the end? I think I know. Do you?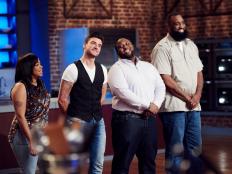 Hear from Alex Guarnaschelli as she recaps the latest episode of Food Network Star.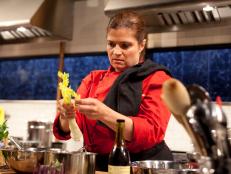 Hear from Alex Guarnaschelli as she welcomes you to her first installment of a weekly report on the latest happenings on Food Network Star, Season 12.