Any small, bite-size food served before a meal to whet and excite the palate. Used synonymously with the term hors d'oeuvre, though this term more aptly describes finger food, whereas appetizer can also apply to a first course served at table.

From The Food Lover's Companion, Fourth edition by Sharon Tyler Herbst and Ron Herbst. Copyright © 2007, 2001, 1995, 1990 by Barron's Educational Series, Inc.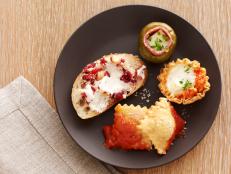 Make these pre-dinner bites from Food Network Magazine in 15 minutes or less.