Side pork (the side of a pig) that has been cured and smoked. Because fat gives bacon its sweet flavor and tender crispness, its proportion should ideally be ½ to 2⁄3 of the total weight. Sliced bacon has been trimmed of rind, sliced and packaged. It comes in thin slices (about 35 strips per pound), regular slices (16 to 20 per pound) or thick slices (12 to 16 per pound). Slab bacon comes in one chunk that must be sliced and is somewhat cheaper than presliced bacon. It usually comes complete with rind, which should be removed before cutting. Bits of diced fried rind are called cracklings. Bacon grease, the fat rendered from cooked bacon, is highly prized—particularly in the southern United States—as a cooking fat. Canned bacon is precooked, needs no refrigeration and is popular with campers. Bacon bits are crisp pieces of bacon that are preserved and dried. They must be stored in the refrigerator. There are also vegetable protein–based imitation "bacon-flavored" bits, which may be kept at room temperature. See also canadian bacon; pancetta.

From The Food Lover's Companion, Fourth edition by Sharon Tyler Herbst and Ron Herbst. Copyright © 2007, 2001, 1995, 1990 by Barron's Educational Series, Inc.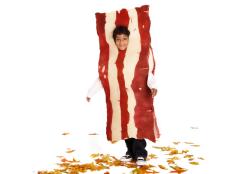 Learn the basics and advanced cooking techniques from Food Network with how-to advice on everything from cooking or carving a turkey to grilling corn.