Pronunciation: [BAY-guhl]

A doughnut-shaped yeast roll with a dense, chewy texture and shiny crust. Bagels are boiled in water before they're baked. The water bath reduces starch and creates a chewy crust. The traditional water bagel is made without eggs and, because it doesn't contain fat, is chewier than an egg bagel. Bagels are the cornerstone of the popular Jewish snack of bagels, lox and cream cheese. Miniature cocktail-size bagels can be split, topped with a spread and served as an hors d'oeuvre.

From The Food Lover's Companion, Fourth edition by Sharon Tyler Herbst and Ron Herbst. Copyright © 2007, 2001, 1995, 1990 by Barron's Educational Series, Inc.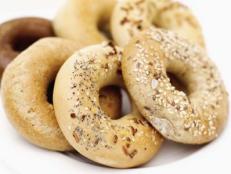 Who doesn't love a bagel for breakfast -- but are they a wise choice? People are always surprised (and a little freaked out) to hear how many slices of bread they'd have to eat to match the calories in one bagel. Here's the good and the bad.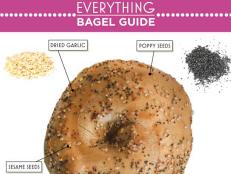 Learn what you'll need to make your own "everything" mixture.