n. 1. Commonly referred to as a grill, a barbeque or barbecue is generally a brazier fitted with a grill and sometimes a spit. The brazier can range anywhere from a simple firebowl, which uses hot coals as heat, to an elaborate electric barbecue. 2. Food (usually meat) that has been cooked using a barbeque method. 3. A term used in the United States for an informal style of outdoor entertaining where barbecued food is served. barbeque v. A method of cooking by which meat, poultry or fish (either whole or in pieces) or other food is covered and slowly cooked in a pit or on a spit, using hot coals or hardwood as a heat source. The food is basted, usually with a highly seasoned sauce, to keep it moist. North Carolina and Texas boast two of the most famous American regional barbeque styles.

From The Food Lover's Companion, Fourth edition by Sharon Tyler Herbst and Ron Herbst. Copyright © 2007, 2001, 1995, 1990 by Barron's Educational Series, Inc.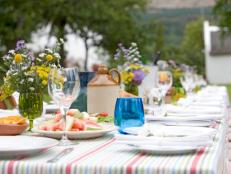 Hosting a get-together this summer? Whether you're doing an informal outdoor barbecue or an evening cocktail party, we've got you covered on how to best calculate the amount of food and drinks you'll need to plan the right size soiree.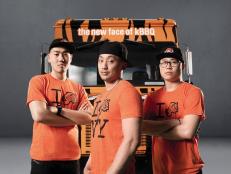 Get a behind-the-scenes look at the fierce food truck teams from the Great Food Truck Race, Season 2.