A wild, dark purple plum found growing in sandy soil along the Atlantic coast. Its flavor is reminiscent of a grape-plum cross but because it's quite tart and bitter, the beach plum is not good for out-of-hand eating. It makes superior jams and jellies, however, as well as a delicious condiment for meats. See also plum.

From The Food Lover's Companion, Fourth edition by Sharon Tyler Herbst and Ron Herbst. Copyright © 2007, 2001, 1995, 1990 by Barron's Educational Series, Inc.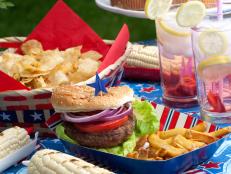 Packing a meal for the beach or a picnic doesn't have to be stressful.