Not a bun in the sense of bread, the Scottish black bun is a spicy mixture of nuts with dried and candied fruit enclosed in a rich pastry crust. Traditionally, Scots serve it at Hogmanay (the New Year). It's best prepared several weeks in advance so the fruit mixture can ripen and develop flavor.

From The Food Lover's Companion, Fourth edition by Sharon Tyler Herbst and Ron Herbst. Copyright © 2007, 2001, 1995, 1990 by Barron's Educational Series, Inc.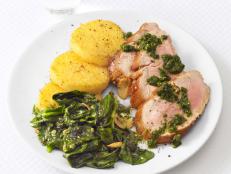 Enhance your favorite summer dishes with Food Network Kitchen's five easy takes on the classic pesto.