A small electrical appliance that uses short rotating blades to chop, blend, purée and liquefy foods. Because blender containers are tall and narrow, air is not incorporated into the food so this appliance will not "whip" foods such as egg whites and cream. Blenders can be used for making soups, purées, sauces, milkshakes and other drinks, as well as for chopping small amounts of foods such as breadcrumbs and herbs.

From The Food Lover's Companion, Fourth edition by Sharon Tyler Herbst and Ron Herbst. Copyright © 2007, 2001, 1995, 1990 by Barron's Educational Series, Inc.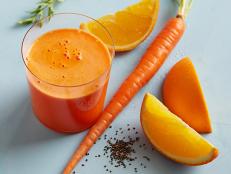 From using a juicer to picking the best ingredients, here's the everything guide to fresh fruit and vegetable drinks.