1. Pale gray streaks and blotches that appear on the surface of chocolate. Bloom is a result of cocoa butter forming crystals on the chocolate, usually caused by the chocolate being stored in too warm an environment. See also chocolate. 2. The pale gray film found on the skin of fruits such as grapes and plums. Fruit bloom is simply nature's waterproofing and completely harmless. 3. A natural, invisible, protective coating found on eggshells. This covering is washed off when USDA-graded eggs are sanitized; producers then replace it with a thin film of mineral oil. 4. To moisten gelatin in a small amount of water before dissolving it in hot liquid.

From The Food Lover's Companion, Fourth edition by Sharon Tyler Herbst and Ron Herbst. Copyright © 2007, 2001, 1995, 1990 by Barron's Educational Series, Inc.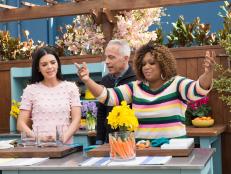 Spring has sprung, and The Kitchen is here to help you refresh your home and your spring table. Try these delightful food-inspired flower arrangement ideas to put some spring into your step.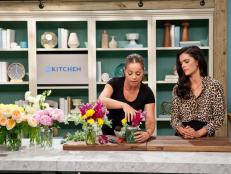 Wow your guests with beautiful bouquets that you can make at home in no time!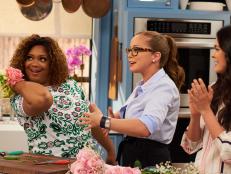 On Mother's Day, Americans spend BILLIONS--with a "B"--of dollars on flowers each year. The Kitchen has come up with 3 beautiful DIY flower techniques that are perfectly pleasing for every mom and will cost you less than pricey bouquets.